Custom Jewelry Design
Jewelry has a way of telling a story and being passed down through generations. It is part of your legacy, and we craft jewelry that will tell your story throughout the years. You are one step away from creating your custom engagement ring, wedding band, or other fine jewelry.
Describe your dream jewelry piece, and we will use your ideas to bring your exclusive design concept to life.
The expert advice we share is grounded in years of experience as both a designer and diamond-setter and backed with certification from the Gemological Institute of America.
Bring Your Vision to Life
To bring your vision to life, we combine your ideas and specifications with our professional jewelry design skills throughout the phases of design sketching, 3D rendering, and 3D prototype printing.
We consult with you during each of these phases so that you have the opportunity to be intimately involved in the entire creation process. This makes for a truly unparalleled and memorable experience, making your fine jewelry much more special.
Once the final model is approved, we set out to craft your custom jewelry. Every diamond and gemstone is set in-house by Jivan, with 20 years of diamond-setting experience. Every piece is guaranteed set for life. We create heirloom-quality jewels, as jewelry has a way of telling your story and being part of your legacy.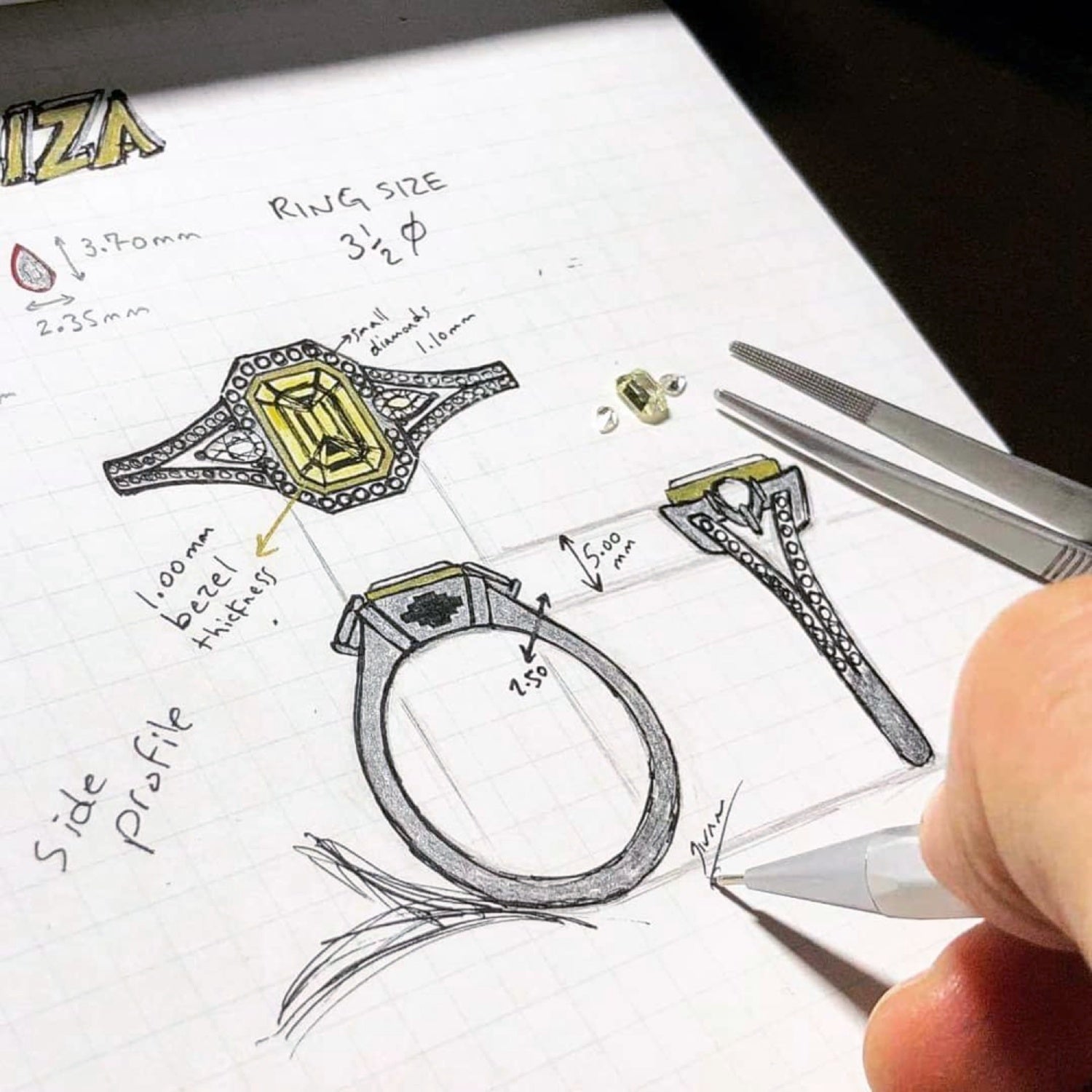 Our experience with Jivan has been truly amazing from start to finish. Smooth sailing from the engagement to wedding day. We first met to discuss type of stones and possible designs and we found him to be quite knowledgeable. We were always put at ease with no pressure to purchase whatsoever, while always being encouraged to ask any questions we had. We believe that Jivan has a gift when it comes to designing rings that respect the client's vision. We definitely recommend him to all of our friends, especially those looking for a 1x1 experience and catered customer service. Thanks again for everything!
What a fantastic experience it was working with Jivan on the design of our engagement ring. He was able to materialize what we had envisioned while respecting our budget. Service was outstanding and we could instantly tell that he is passionate about his craft and would highly recommend to anyone looking for a jeweller. We have already recommended him to our friends and family. Will definitely be a repeat client!
Jivan was wonderful, especially to 2 newbies in getting custom jewellery. He created a beautiful eternity ring to celebrate our 25th wedding anniversary with a nod to my recently passed mother. Jivan walked us through the process with patience. Highly recommend!
Amazing process from start to the end. Jivan and his team are truly bringing dreams to reality. He made me a custom ring which surpassed any of my expectations. If ever you are looking for a fun, sophisticated and beautiful piece of jewelry, he is definitely the person you are looking for to trust.
I brought an heirloom diamond ring to Jivan for a custom redesign. The ring was a gift from my father before he passed away, so needless to say it was very important to me. Jivan was so patient and knowledgeable, and really took the time to learn about my partner's personality and taste to make sure the new ring would be a perfect match for her. The engagement went flawlessly, and my partner was blown away with how beautiful the ring was. Jivan is a true artist, and his talent and passion for what he does is very apparent. Highly, HIGHLY recommend using him for such an important job and moment in your life. In short - he's incredible.
Amazing experience. Jivan is an exceptional professional. A master of his craft. You will appreciate his candour and expertise. My better half's ring turned out exactly how I envisioned it. Needless to say... it was a Yes.
Choosing my engagement ring from Jivan was one of the best decisions I could have made. He came highly recommended by good family friends, whose style I trusted. He made the entire process so easy. He listened carefully to the details that I wanted and also gave his professional opinion when asked. He was always available, his response times were fast, and he found the perfect diamond based on my preferences and budget. In the end, he was extremely reasonable in price. I can't recommend him enough!!!!